Fossil fuels are the backbone of the 1st industrial revolution. Same as the semiconductor is the backbone of the 4th industrial revolution. Without semiconductors, we cannot imagine our modern life.
Whether it is the fast speed of our daily life, or
Economy of the country
For this crucial device like semiconductors, India is dependent on imports today.
Semiconductor: –
Semiconductors are those materials that have conductivity between conductor's silver copper etc. and insulators (glass and diamonds).
Semiconductors have 2 important properties.
Can control the number of charge carriers. (electron and holes) In this Conductivity can be control without energy loss, which cannot be possible in conductor.
Can give unidirectional current.
On a semiconductor supply chain, China is on world leader, has emerged as a rival to India. Taiwan is also a major location for manufacturing a semiconductor. If the semiconductor supply gets disrupted then it will be an economic, geopolitical & strategic threat to India.
Semiconductor – Chip supply chain, we know Semiconductor with the name of integrated circuits or microchips. Which is mostly made of silicon, germanium, and Gallium arsenide.
There are four areas in the semiconductor industry.
a) Fabless b) Foundry c) IDM d) OSAT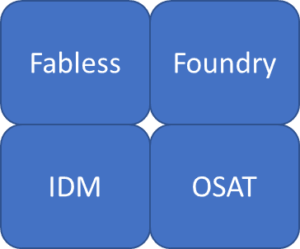 Firstly understand the process of semiconductor manufacturing process flow. These are three major processes of it.
Step 1: Chip Design – This is a process to draw IC ( integrated circuit ) pattern by making an electronic component and its interconnection.
Step 2: Chip Fabrication – This process is to fabricate IC on wafers based on a design by fabless.
Step 3: Assembly – This process is packaging and includes tests as well.
So, each process and players match like this.
A) Fabless:- Fabless companies (Companies involved only in designing the chip are known as Fabless firms) draw IV patterns by making electronic components and their interconnection.
These are the top fabless companies.
Qualcomm
Broadcom
Nvidia
AMD
B) Foundry:- Foundry companies fabricate IC on wafer-based on a design by fabless.
These are the top Foundry companies.
TSMC
SAMSUNG
Global Foundries
UMC
SMIC
C) IDM:- IDM (Companies that do all the process of chip-making themselves are called integrated device manufacturers) do both chip design and chip fabrication, which is done by fabless and foundry.
These are the top IDMs companies.
Intel
Samsung
SK Hynix
Micron
Texas Instruments
D) OSAT:- OSAT do packaging(Test)
These are the top OSAT companies.
Where does India Stand?
Till March 2021 India was 100% import-dependent on "Semiconductors". In chip manufacturing according to data India is far behind in terms of semiconductors But India Has an advantage in chip designing and Assembly.
Some global semiconductor companies, their design center as well assembly center has stabilized in India.
Because India has highly skilled worked forced –In designing segment which cheap semi skill labor which is crucial in assembly segment.
Foxconn, Samsung and Wistron companies establish their SMU plants in India .
According to the Ministry of Electronics &information technology, Government of India, India there are 20 thousand engineers are involved in chip designing.
The US dominates more than 50% of the market in overall semiconductor production.
World's leading manufacturing semiconductors come from USA- Included – INTEL, NVIDIA BROADCOM, and TEXS INSTRUMENTS, and on this 5th major company is SAMSUN which is come from South koria.
In semiconductor industries dominance of these companies because these industries are highly specialized and it involves heavy investments or manufacturing cost. "Capital-intensive"
Process of making semiconductor
Humble sand this is what the building blocks of the future are made of but making them is a long process. comprising a great many steps.
First the silicon dioxide in the sand has to be converted into pure silicon after that it is cut into wafer-thin discs in Dresden. These raw wafers are 300 millimeters in diameter and less than a millimeter thick. In our cleanroom, up to 35000 chips are then made from each of these discs in numerous process stages.
The wafers are given their characteristic surface after coating with a photoresist layer the wafer surface is developed and etched this results in the desired conductor structure such structures is hundreds of times finer than a human hair.
Dopants are then implanted in the material to increase the electrical connectivity parts of the semiconductor in subsequent phases this and other process steps are repeated until the entire Layout of the chip has been deposited on the wafer.
This involves heating the wafer to more than 1100 degrees Celsius in some cases up to 27 times up to 200 measurements are done and up to 26 exposures all in all this can mean as many as 700 processing steps and 14 weeks of processing time.
Once this is completed the microchip is assembled from as many as 30 such layers like a mini skyscraper each layer has its own function interconnecting them makes the microchip highly complex semiconductor chips the building blocks of our future.
Indian government approves Rs. 76000 crore incentive package for the semiconductor chips.
The comprehensive program for the "development of sustainable semiconductor and display ecosystem in the country" was aimed at making India a global hub of electronic system design and manufacturing. The government has decided to set up a complete ecosystem for semiconductors in the country. It will include design, fabrication, packaging, and testing.
Cabinet approves Rs 76,000-cr scheme for development of semiconductor, display manufacturing ecosystem. The incentives include a 25 percent subsidy on capital expenditure for establishing semiconductor wafer fabrication units in the country.
What govt plans to do.
The government has lined up attractive incentive support for companies engaged in silicon semiconductor fabs, display fabs, Semi-conductor Laboratory (SCL), compound semiconductors, silicon photonics, sensors(including MEMS) fabs, semiconductor ATMP / OSAT units, and semiconductor packaging & design.
Telecom and IT Minister Ashwini Vaishnav said the decision will help design, fabrication, packing, and testing of the microchips and develop a complete ecosystem. IT ministry will explore the possibility of the joint venture of SCL with a commercial fab partner to modernize the brownfield fab facility.
Semiconductors are silicon chips that cater to control and memory functions in products ranging from automobiles, computers, and cellphones to various other electronic items.
The usage of semiconductors in the auto industry has gone up globally in recent times with technological advancements and new models coming with more and more electronic features such as Bluetooth connectivity and driver-assist, navigation, and hybrid-electric systems.
This mega incentive by the Modi- government comes at a time when carmakers, other electronic giants across the world are facing acute chip shortages as supply chain disruptions and demand for consumer electronics have increased.