CHATGPT which brings a revolution in internet sector. It creates sensation in human mind where people ask their question from GitaGPT. And will give an accurate answer to that question.
Similarly, with google search people don't find their answer in one search there were many links related to that topic and you need to find one link among them which gives your answer with all sufficient information. Which is a bit time consuming and doesn't confirm which link is clicked, gives an adequate answer or not.
But we have seen that users get their answer in a single click and in an accurate manner. With all these reason Google has also launched its Artificial intelligence tool that is BARD – but in recently there are multiple Artificial tools has come into internet related to GPT and it claims that version of CHATGPT – Like GITAGPT
Google's softer engineers create Gita GPT, and AI Chatbot and they create this GPT inspired by Bhagwat Gita.
So, let us understand about it completely and why it was launched and how it works. As it is said in the Hindu scriptures that Bhagavat has given the answer of everyday life, if one feels frustrated or weary of life and is searching for some answer related to life then he/she will find it in Bhagavat Gita.
Similarly in this chatbot you can ask your question. Similarly, like Geeta Lord Krishna answers Arjuna's questions. This artificial intelligence will answer your questions.
First, there was CHATGPT – Open AI CHATBOT that became an internet sensation.
According to a Bloomberg report, a growing number of large and small companies are trying to overtake Open AI in the world of AI services. As there is the success of CHATGPT into market and it funded by Microsoft after that Google had launched its own experimental conversation AI "BARD".
As there is lots of rumors has come into market regarding google search is their presence will demolish or people shift from google to another search engine to CHATGPT, with all these concern Google has also launched its AI version in between i.e., "BARD". But it hasn't been as successful in the market as CHATGPT, here's a news from Money Control – Google's parent company Alphabet has lost $100 billion in market value because AI chatbot "Bard" gives wrong answers.
So, one of the biggest losses google's faces just its AI had given inaccurate answers of some queries.
Before Moving forward let's understand the Meaning of AI-
OPEN Artificial Intelligence?
Open AI is introducing for large – language model, which have huge AI systems capable of processing
and analysis text from entire internet and using it to general response. This technology called GPT – Stands for Generative Pre – Trained Transformer. It works as similar human brain works and thought – and give people answered with accurate manner.
In the Meantime, several apps have emerged into internet, online related to GPT technology those all powered by GPT-3. According to Bloomberg report, the technology is expected to get significant better with the release of GPT-4.
In between, in the internet one One of GPT has also emerged GITA GPT – A GPT -3 powered app that generates to your life issues from the Bhagavat Gita.
GITAGPT Chatbot
Gita GPT is the brainchild of Sukuru Sai Vineet, a software engineer with google India. This has been made by him and people who want to answer their questing according to Bhagwat Gita as arjun ask to shri Krishna for their query question and lord Krishna answer according to dharma same this Gita GPT also reverts your question answer according to spirituality.
It covers broad range of topics, from the ethically of war to the nature of God and self, from philosophical debates to the meaning of 'dharma' and more. Gita GPT allows users to "consult the Gita" for everyday problems. For examples you can anything of your life problem and Gita GPT answered according to Bhagwat Gita. Below the examples of some-
How to login GITA GPT?
https://www.gitagpt.in/ and similarly regarding this there is another website where Krishna gives answer of arjuna over there you can ask your question as arjuna ask- https://gita.kishans.in/ With Gita GPT, you can gain insight and clarity into your life decision in an easy, interactive way, "the app promises"
So, another question raised into your brain how this concept is raised into the developer's brain so lets understand the reason behind of it.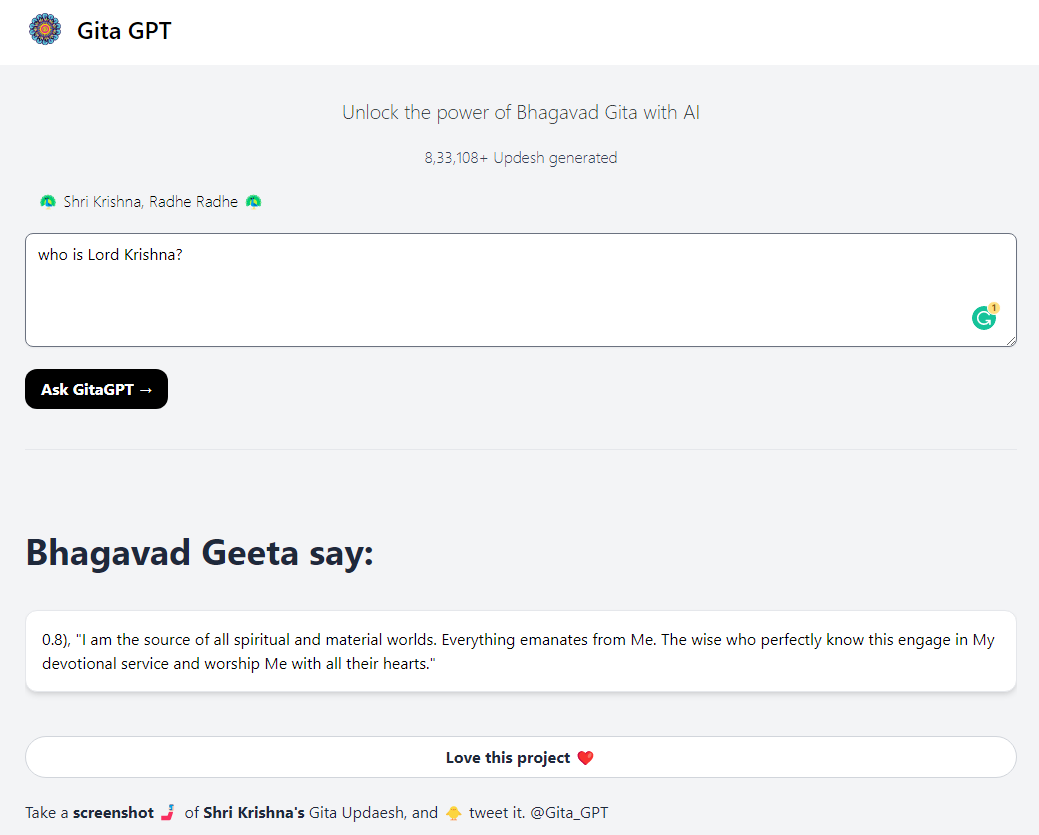 Why did GITA GPT Suddenly rise into the Internet?
One of the tweets has been coming by someone and they write on his tweet if there some Bhagwat Gita-related GPT has come into the internet and where people get answered according to Bhagwat Gita. And they solved their situation and handle it relevantly with hassle-free. His tweet went viral with over 2lakh views and several apps using the teaching of the Gita cropped up soon afterward.
Later by some people with artificial tools they launched the GITA GPT.
I Hope you guys also like this article so could also ask you question to GITA GPT and Kishans GPT and get your answer. We also let know how you like this article and Gita GPT.