In this article, we understand what is a computer network and how it works in today's time, and the Types of networks.
Table of Contents
Before starting let's understand What is Network? – When two people or users are connected to each other for the purpose of communication is called a network. We share data or applications from one computer to another, connected to each other for the purpose of Sharing their resource. It is called a computer network. Let's just understand briefly computer networks.
What is Computer Network?
Computer Network refers to a group of computing devices that are connected to each other for sharing data, resources, and applications. It is anything where two or more computing devices are connected to each other. CN consists of desktops, servers, printers, mobile phones, tablets, etc. It supports an unlimited number of applications and services.
Computer Network is used to share resources, exchange files or allow communication. These resources can be in the form of hardware and software as well.
Hardware sharing can share through many devices like printers, hard drives, scanners, etc. In software sharing, can share any type of files, applications, etc.
The first computer network is ARPANET (Advanced Research Projects Agency Network)
Types of Computer Networks: –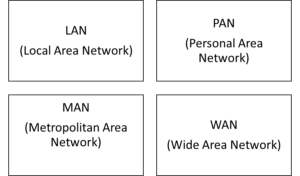 LAN is a group of computer devices connected to each other in a small place such as a home, office, or building. It is connected through a communication medium such as twisted pair, coaxial cables, etc.
It provides higher security and transfers data at a faster rate. It only works in a specified zone, and outside its range will reduce. LAN networks work only under a 10m to 1000m network range area. Examples are Ethernet and Wi-Fi.
PAN (PERSONAL AREA NETW0RK)
PAN is used for connecting devices for personal use. It is a network arranged within a range of 10 meters. It covers an area of 30 feet. It is used in laptops, mobile phones, media players,s and play stations.
They are two types of PAN: –
Wired Personal Area Network
Wireless Personal Area Network
MAN (METROPOLITAN AREA NETWORK)
MAN is a network that connects devices in a larger geographic area. It forms a larger network. In this, various LANs are connected to each other. It is used by government agencies to connect to the citizens and industries. It is in the highest range as compared to LAN. It is used in banks, airlines, colleges, etc.
MAN network works under 5Km to 50Km range area. Examples are Cable Tv Networks.
A WAN is a network that connects devices a extends over a larger geographic area like states or countries. It is bigger than all other networks. The internet is one of the biggest WANs in the world. It is used in business, government agencies, etc. It works through a telephone line, satellite links, etc.
WAN network works under a 1000000Km range area. It example is the Internet. Which is accessible in any place.
Features of Computer Network: –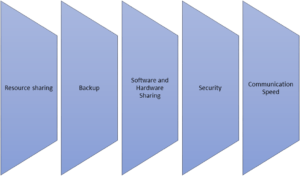 In computer networks, we can share anything with any device. These are the most important and most useful features of a computer network. We can share data, files, and information between different systems that are connected to each other. 
In a computer network, there must be a central server for backup. The server must have a backup of all data exchanged over the network. And in case, we lost our data so we can recover it faster through backup. It is a very simple and easy way to recover lost data.
Software and Hardware Sharing: –
In computer networks, we can share data through hardware as well as software too. We do not need to install special applications or programs in each system for sharing.  It should allow better compatibility between the software and hardware sharing.
In a computer network, data should be secured so that data can be protected from unwanted access. Also, the data sent should be received as it is at the receiver node so that there is no loss of data during transfer. Hackers should not be able to access the data exchanged on the network.
In a computer network, we can communicate easily with each other. It is easy for individuals as well as for groups to communicate with one another. It includes email messaging, video conferencing, telephone, etc.